What is miss Chow's all about?
An Asian inspired eatery and dumpling house, that focuses on quality and creativity of ingredients, whilst maintaining a strong bond to cultural heritage, traditional cooking methods and techniques.
From steamers filled with dumplings, fresh vegetable dishes, the classic asian fare, to wok fried noodles, our chefs are dedicated to continuing on a heritage of serving up food as they would have hundreds of years ago, only with a slightly modern and contemporary twist.
An extensive wine list, cocktails and drinks that complement your food also await you. We've personally selected and crafted the drinks on our menu to complement your dining experience.
Currently in four different locations, two restaurants – in South Perth and Claremont respectively, and two takeaway locations in City Beach and Bicton.
Also, great for house parties or a simple dinner in the comfort of your own home. Especially handy for those with little or no time. You can have Miss Chow's with ease, from the comfort of your own home.
Simply place an order on the online ordering platform and pick it up. Make sure you select your specific Miss Chow's Restaurant.
Miss Chow's is the Talk of the town
"Our first time to eat here, and I'm a bit surprised someone welcome us and ushered us to a table that is not wearing a staff uniform… She's very warm and friendly and said "Welcome to Miss Chows". I'm so pleased and really felt welcome, and oh my when the food comes, absolutely delicious… the pork belly is melting on my mouth, the dumplings yummy. I will definitely come back and recommend this place to my friends…??"
Rosemarie Limbo
Restaurant Deco is modern. The waiters and waitresses are super friendly and well trained ?. Phenomenon is very nice and cozy, especially in cold season. Chinese kids meal is a feature. Food doesn't contain MSG is a bonus. If the chef can use less salt, it would be better. You can dine alone or come as a group. Please make sure you book in advance if it is a weekend night. Recommend to all ages!
TECHMUM WA
"I've travelled extensively throughout China over many years. Miss Chow's has managed to capture the sophisticated taste of the finest authentic Chinese dining you can find in Shanghai today. This is Shanghainese food at its very best, carefully selected for the Australian palette but exactly as you can find it in China."
John C
"Moving recently to the area, Miss Chow's has been on high rotation! Great vibe with super fresh ingredients, delicately spiced dumplings, fantastic wonton soups and their signature fried rice and hokkien noodles are perfect comfort food. Reasonable wine list by the glass and good value for great modern asian cuisine."
Bali Beer C
"Fabulous dumplings and wantons. Chop Chop Chicken and Beef Noodles are favourites of all the family. Food is just as good at home as it is in the restaurant, a rare achievement for 'take away' options.
Sarah B
"Asian food with finesse – great quality, a beautiful setting. Friendly and helpful staff, a good drinks menu.
Nick E
"Went here for a friend's birthday on a Tuesday lunchtime. There was a large group of us and the place was packed. (Always a good sign I think )! The service was amazing so attentive and as for the food well it was so tasty and fresh. A great wine list and lovely atmosphere. I will definitely be back."
Jo-Lee J
"Went in for a quick lunch with a friend and our two girls. The vegetarian spring rolls are absolutely to die for, the taste is magnificent. We had fried dumplings and squid which everyone enjoyed. Friendly staff as always. Will definitely return."
Jodie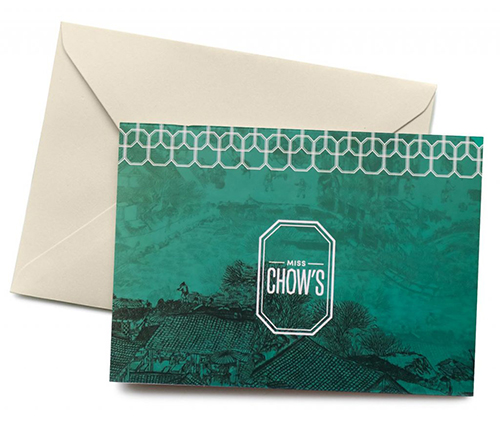 Grab a gift card
Giving the gift of food is now even easier. Simply click the button below and choose the value of your gift card! Your friends will love you for it!
Interested in a career with Miss Chow's?
We are dedicated to creating memorable experiences for everyone who steps through our doors at Miss Chow's.